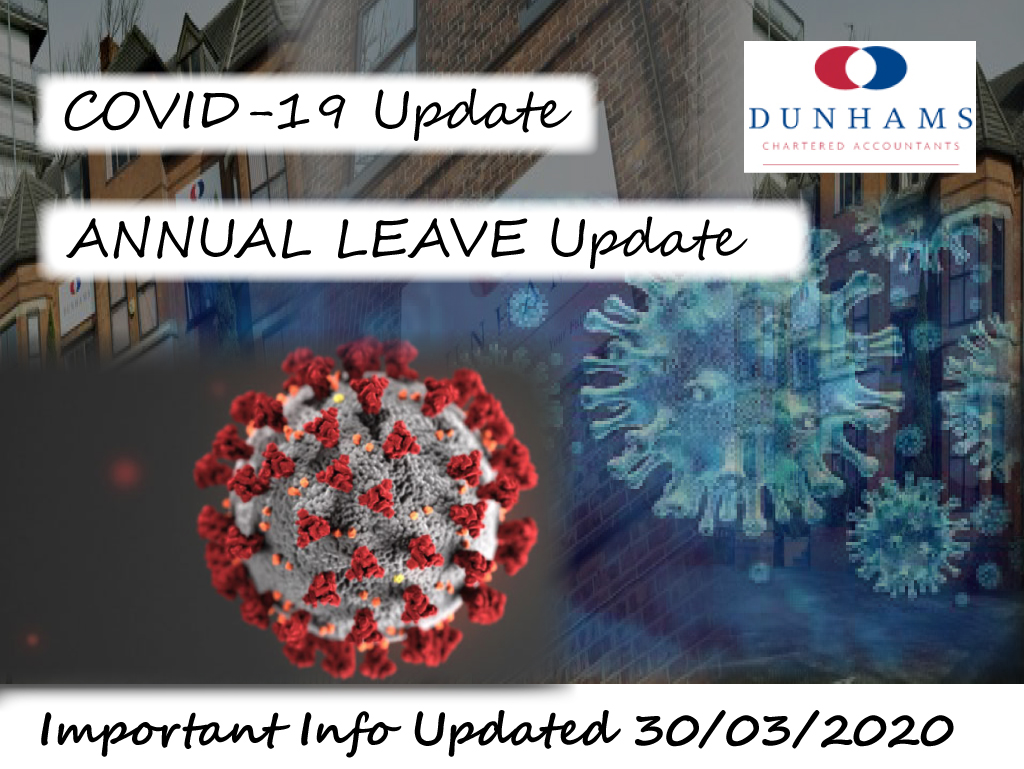 Dunhams Covid-19 Annual Leave Update
---
Posted on: 30-03-2020
Coronavirus: relaxation of the statutory annual leave rules
HOLIDAYS

Regulations have taken effect which amend the Working Time Regulations 1998 to relax the current restriction on carrying forward untaken annual leave. What's been amended and why?
Under the Working Time Regulations 1998 (WTR), workers have a statutory right to 5.6 weeks' paid annual leave. The WTR require that at least four of these weeks must be taken in the holiday year in which they accrue, as they prevent them being carried forward into the next holiday year (although case law has carved out exceptions here relating to long-term sick leave and maternity leave). The additional 1.6 weeks can be carried over by agreement in writing, e.g. in the employment contract, as can any further contractual annual leave.
The Working Time (Coronavirus) (Amendment) Regulations 2020 came into force on 26 March 2020. They have now amended the WTR to insert an exception to this bar on carrying forward untaken annual leave. They provide that where, at the end of the holiday year, it was "not reasonably practicable" for the worker to take some or all of their leave as a result of the effects of coronavirus (including the effects on the worker, the employer, or the wider economy or society), they can now carry forward that annual leave and take it in the following two holiday years. This new rule applies to the four weeks of annual leave. It does not apply to the additional 1.6 weeks but, as stated above, those weeks can already be carried forward one holiday year by agreement.
The aim of this measure is to ensure that key industries are not left short-staffed in the battle against coronavirus.
The WTR also include a provision governing payment in lieu of any untaken annual leave where a worker's employment terminates. This has now been amended to provide that where a worker's employment subsequently terminates and, on their termination date, they remain entitled to this coronavirus-related carried-forward annual leave, you must make a payment in lieu to them for the period of that untaken leave. This ensures the worker doesn't lose out if they still haven't taken the carried-forward annual leave by the time their employment ends. Finally, there is a new restriction on your current statutory right to turn down a worker's request for annual leave. In future, you will only be able to require a worker not to take this carried-forward annual leave on particular days where you have "good reason" to do so.
So that key industries aren't being left short-staffed during the coronavirus pandemic by workers having to take their unused annual leave entitlement before their holiday year ends, the government has amended the legislation to provide that workers can now carry forward up to four weeks of their unused statutory annual leave where it wasn't reasonably practicable for them to take it as a result of the effects of coronavirus.